Diana wanted me to show her pics of my fold up pads, so I figured I may as well do it here and share my patterns as well :)

(I have other pad making guides at www.clothpads.org and in the articles section of www.clothpadshop.com)



Mine is pretty similar to hers, but my foldup bit is centered on the winged part, where I think hers is off centered?

I didn't take pics of construction, but it's pretty simple... I've included small pics because I was sewing these up quickly and the sewing isn't the best!


So first you take your winged pad shape.... cut 2 of flannel and edge them.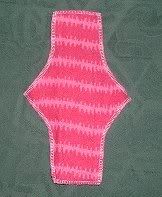 The cut out a rectangle that is as long as the pad, and 3 times wider than you want the crotch width to be. Eg in this example the length is 11.25in and the width of the folded bit is 8.25.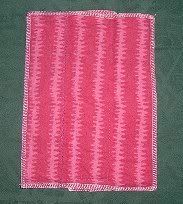 Then ideally sew the PUL strip on, because it's probably neater that way, unlike how I've done it, where I've just zig zagged it on afterwards because I forgot. That should be the length of the fold up bit but 1/3 the width (eg in this example it's 2.75in wide).

Then you fold the trifold section up and place that onto your winged piece, so it's in the centre where you want it to be.... and then unfold it and pin it on (so you're only pinning the winged part and the part of the trifold that will be sewn to it - if that makes sense.) Sew it on with 2 parallel lines, a rectangle or just one line of stitching up the centre - it's up to you (one line is free to flap about more to dry faster, but the stitching would be under more strain than having 2 lines....)

So opened out, you get something like this:




The PUL is purple....

and from underneath you get this:




if you wanted to, you could make it without the PUL strip and then you could wear it either way up (folded part against you or winged part against you....

If you want more absorbency than 8 layers flannel (which is what it works out to be once folded up)... for nights or whatever, then you could make a terry or flanel (or hemp or bamboo or whatever) booster to slip in there. You could even make the booster longer than the pad (so it sticks out the ends) so that it can catch leaks at night...


or if you wanted leakproofing through the wing area you could make the winged part from the 2 layers of flannel (don't edge it yet) and sew the fold up part to that (make the foldup part about 1/4 to 1/2 inch shorter than the length of the pad - but the same width as you would otherwise make it), and then sew the flannel winged bit to a PUL layer (eg just overlock/serge around it - that's why you'd want the fold up part a bit shorter, so it's not going to be caught in the overlocking around the edge of your winged bit.).... so then you wear the winged part against your underpants and the fold up stuff on top, and have PUL even through the wing. If that all makes sense (might have to make myself one and take pics).


patterns are here (they have no seam allowance because I've overlocked them... so either do likewise or add your seam allowance)

Smaller one (8.75in long):
http://i2.photobucket.com/albums/y5/naidisbo/Pads/wwwdonatepadsorg_padpattern1.gif

Longer one (11.25in long):
http://i2.photobucket.com/albums/y5/naidisbo/Pads/wwwdonatepadsorg_padpattern2.gif

Measurements and instructions:
http://i2.photobucket.com/albums/y5/naidisbo/Pads/wwwdonatepadsorg_padpatternfold.gif